"Our First OBD2 Custom Dashboard Display which plugs and plays data in seconds!"

• Display sensor data from the Factory OBD2 ECU, showing more data than the factory dashboard

• Customize your dashboard with your own background, graphics, and gauge layouts

Easy suction cup windsheild mount or can be easily mounted to any surface.


Very upgradable for serious road racing or circle track racing using our FUEL GPS Data System.

• Expand your dashboard by adding analog inputs, serial devices, USB Host devices, and 3rd party products

• Replace the factory instrument cluster for hot rods, street rods, racecars and custom cars using one or more Dash Displays

"The Perfect System for Most Club Production Car Racers, Street Tuners and any car with an OBD II connector!"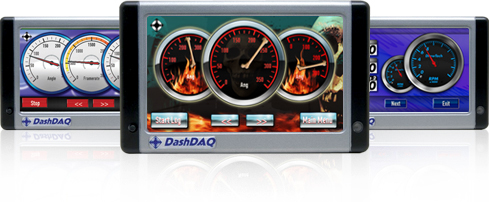 "FULL Data Acquistion Power using the data coming from your car's OBD2 connector!"
Data Logger and Flight Recorder

• Show info on gauges in real-time

• Record to optional MMC/SD card, up to 4GB

• Calculate Horsepower, Torque, and Performance

• calculate MPG and set configurable trip counters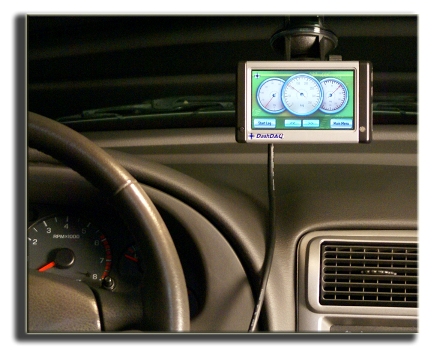 "It is also an OBD2 Trouble Code (DTC) reader as well as being able to View the Live OBD II Data from your car's OBD2 connector!"
• Find out why your check-engine light is on

• Read and Clear Diagnostic Trouble Codes

• View sensor data to figure out which parts may be defective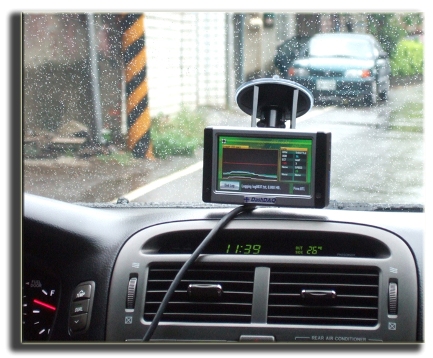 $695 complete with everything you need!