Racing data acquisition systems and unique racing products
for all forms of competition Karts!

Built for the serious racer, our easy to use systems are designed for speed and accuracy at a fraction of the cost of a typical data acquisition system. All of our systems incorporate the highest quality components at an affordable price.

This system provides the most important channels for reducing lap times. Standard with RPM recording capability, this system gives you the ability to evaluate both the kart and the driver. Cornering speed through every turn, gearing, throttle on/off time, wheel spin, length of shift times, engine power bands, clutch adjustment, braking and more can be evaluated with this system.

Electronics built into this unit allows you to download your racing session into your personal computer and be able to view and store your data graphically utilizing user friendly Windows™ software. Graphs can be saved and compared to previous events, or for analysis of one or more race sessions at once! You can overlay laps and find out why the fast laps were fast. Learn where to improve your laps both for speed and consistency

The data logger incorporates four channel record capability. It can record RPM, MPH, and two other sensor inputs. With the optional sensor inputs you can capture and display on your personal computer items like:

MPH - Used with RPM for cornering speed, gearing, clutch adjustment, and more


Automatic Lap Timing - Inserts lap times into data graphs


Exhaust Gas Temperature - Allows you to know EGT at any portion of the track


Cylinder Head Temperature - As with EGT you can know CHT at every moment of every lap
And for practice sessions:

Steering Angle


Throttle Position


"G" Force (lateral or longitudinal)
You can change or alternate the sensors you want to use at any time! Multiple laps can be overlaid, displaying one or more channels at once!
Forget your computer? This unit will also allow you to use your vehicle's Digatron to display your RPM data instead of using a personal computer. Replay your sessions on your Digatron at up to 3 different speeds and you can even rewind if you passed something that you want to review!
includes:

NiCad battery and charger

Spark plug inductive RPM pick up.

Data logger control unit with extended memory (Over 2 Hours of recording)

Records at 30 samples per second!

RPM recording with the ability to add 3 additional channels

Multiple session recording WITHOUT having to download into a personal computer!

Electronics for PC interface, Windows™ based software, and interface cable

Multi-speed playback (slow, norm., and fast) and rewind capability

Control panel and switches

Vehicle wiring harness and control unit mounting hardware.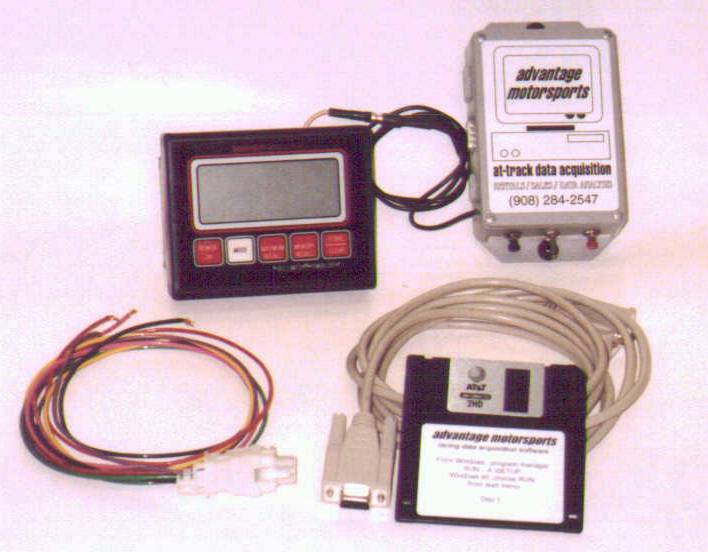 Digatron not included
For information About our optional sensors - Click Here
Important facts

All data acquisition control units are sealed in a flexible epoxy, this protects the electronics from moisture, dirt, vibration, and heat. This makes them extremely rugged and is another feature that separates us from virtually every data acquisition system out there.


Our software DOES NOT use excessive "smoothing". We allow you to see ALL the data.


Don't want to bring your computer to the track? Remember, this system features multiple (up to 8) session recording WITHOUT having to download into a personal computer!


All systems come with tech support! All systems feature a 1 year limited warranty.


Control unit specifications L x W x H = 5.5 x 3.5 x 1.75 / control unit weight is 12 oz.


Prices subject to change without notice. Shipping, handling & taxes are not included in prices.